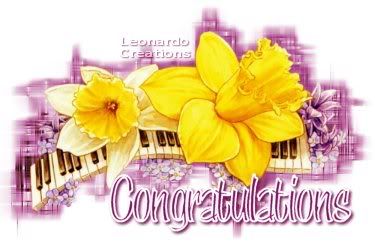 Great job, Anne!
She worked hard and put lots of focus into her composition this year! Her piece, The River Song, earned her "Honorable Mention" out of all the many students who submitted their pieces.
Congratulations! I'm so proud of you!! I've enjoyed teaching you over the last 3 years! Keep up the good work!
Let's Play Music says, "After much deliberation, we are excited to announce the winners of our 2010 Composition Contest!! The quality of all entries was truly outstanding. Winners were chosen from the very best compositions from our newly graduated Orange Roots students.
A video of the winners playing their pieces will be shown at our 2010 Symposium in Mesa on June 5th and also on our
blog on June 7th
! We were amazed at the skill shown in these pieces... we think you will be too!
Congratulations to all participants! We had a great year!"